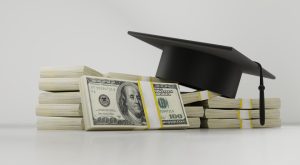 Mortgage lenders follow guidelines imposed by the mortgage marketplace when approving home loans. One of them deals with the credit worthiness of the mortgage applicant. The most well-known of these guidelines is credit score, as reported by the major credit scoring repositories     ( Experian, Equifax and Transunion).
However, another credit guideline, which is equally important, is "DTI", which is an abbreviation for "debt-to-income". This is a ratio of monthly debt payments ( mortgage debt, and total debt) to gross monthly income. The acceptable ranges for DTI are between 31% ( for mortgage debt) and 43% ( for total debt, including mortgage debt), depending on each market's guidelines ( Fannie Mae, and Freddie Mac, FHA, VA, etc.).
Now, Fannie Mae, the nation's largest conventional mortgage market, is introducing a new purchase program that will help those that are burdened by excessive total debt, including student loans.
Called "Student Loan Solutions", the program eases the impact of student loans, and other non-mortgage debt, on DTI in two major ways.
First, it allows the monthly student loan payment as shown on the borrower's credit report to be used to calculate the DTI.  This is important, since that amount may be a discounted payment, such as in income-based repayment plans (IBR ), or pay-as-you-go plans ( PAYE). Prior to this, Fannie Mae, and all other secondary mortgage markets, required the payment to be the actual amortized payment for the student loan, whether it was being fully paid or not. This can represent a significant payment difference.  As of this date, no other market place has adopted this new calculation.
Secondly, and more important, Fannie Mae is introducing a landmark new credit underwriting policy, whereby a borrower's debt- which is paid for by others-is disregarded when calculating DTI. That is, if you can prove that the student loan debt shown on your credit report is paid for you by others, for example, your parents, your siblings, or even your roommate, then Fannie Mae will not use it in calculating DTI.
And, equally important, this policy applies not only to student loan debt, but to all non-mortgage debt that you have.
This is a major break-through for potential first-time home buyers. If this policy is employed correctly, first-time home buyers now can qualify for a purchase mortgage with virtually no DTI ratio. This will allow for much more of an approved mortgage amount, if not mortgage approval, itself!
The only catch in Fannie Mae's new policy is that the other party must have made your debt payments for twelve consecutive months, with no lates or delinquencies. There is no description of the most acceptable method of proving the payments made by the other party.
Nor, is there any mention of whether the student is prohibited from reimbursing the paying party. ( Readers may contact the author for updates or further clarifications to this program made by Fannie Mae.)
It now appears that with Fannie Mae's Student Loan Solutions program, first-time home-buyers will qualify for homes that, heretofore, they have not.  Although, it will take a year to qualify for the second benefit, it is worth the effort.
Richard W. Dyas, COO
All Credits Mortgage Corp.
1-434-325-7229